A Year in the Life of a Cornish Hedge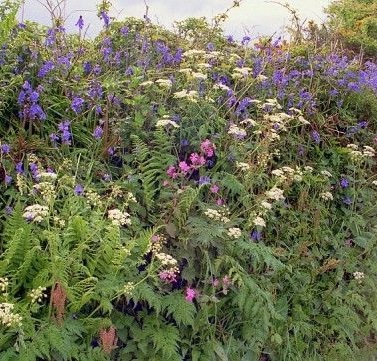 January 2017
Welcome to the Year in the Life of a Cornish Hedge. Our Cornish hamlet of Trewartha in the Roseland Peninsula has some lovely old Cornish Hedges. I noticed the beautiful flowers in the hedge last year and how much they changed over the seasons. So this year I will take and post weekly photos of the same stretch of hedge throughout 2017 to show the fantastic diversity of plants that grow here. Please come back to see how we are progressing.
A typical Cornish Hedge in summer
What is a Cornish Hedge?
The hedge we are following is a boundary hedge. Being a Cornish Hedge, it is made of stone with an earth centre. It is about 150cm high and has a ditch running along the base. The hedge separates our country lane from a field. It faces south and is quite exposed to the elements at 100m above sea level overlooking Veryan Bay.
Trewartha is a Medieval hamlet surrounded by grassland, with a little woodland nearby and the small fishing port of Porloe 1/2 mile away. I don't know when the hedge was built, probably somewhere between 6000 years ago and Medieval times, but maybe later if the fields boundaries were adjusted. We have the Stone Age Carne Barrow nearby, so there is potential for the hedges in the area to be ancient (lets be optimistic).
I am expecting the hedge to have a typical mix of wild flowering plants such as Cow Parsely, Foxgloves, Campion and Violets. Plus some garden escapees, such as Valerian, some plants that like damper soils, such as Pennywort, and possibly some maritime plants. And a background cover of ferns and grasses. I understand the hedge species reflect the history of Trewartha and the local landscape, so it will be interesting to see what we find. The hedge is managed by the farmer, who cuts it back once a year to keep the narrow lane clear, so this potentially constrains the range of plants that survive in the hedge. Cornish Hedges are very species rich, so we should see plenty of plants as the season progresses ...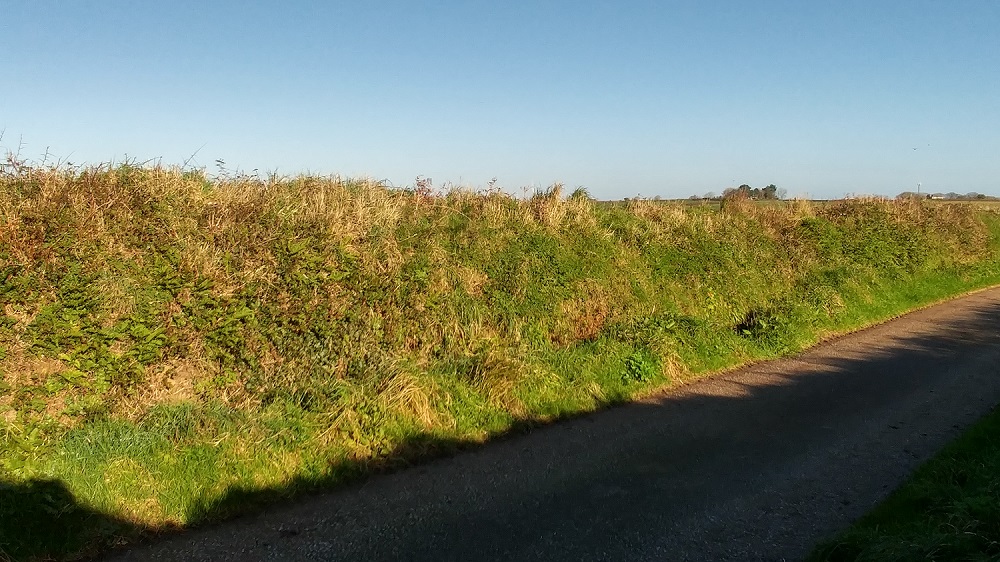 Week 1: January 2017
A cold and sunny day in early January.
This first photo was a challenge to take as the hedge is shaded by our house, a tree and a garage at various times of day. So in winter, we will need to take the photo close to midday. Notice the ditch at the base of the hedge which provides quite a bit of water. There are no flowering plants yet (although there are some primroses in flower in the area). The hedge looks a bit bland at this time of year, but I think it will be interesting to see it change week by week and to see it transformed in summer. I'll provide more detailed photos when I find something interesting. Please let me know if you want more information and more detailed photos of particular plants. Jane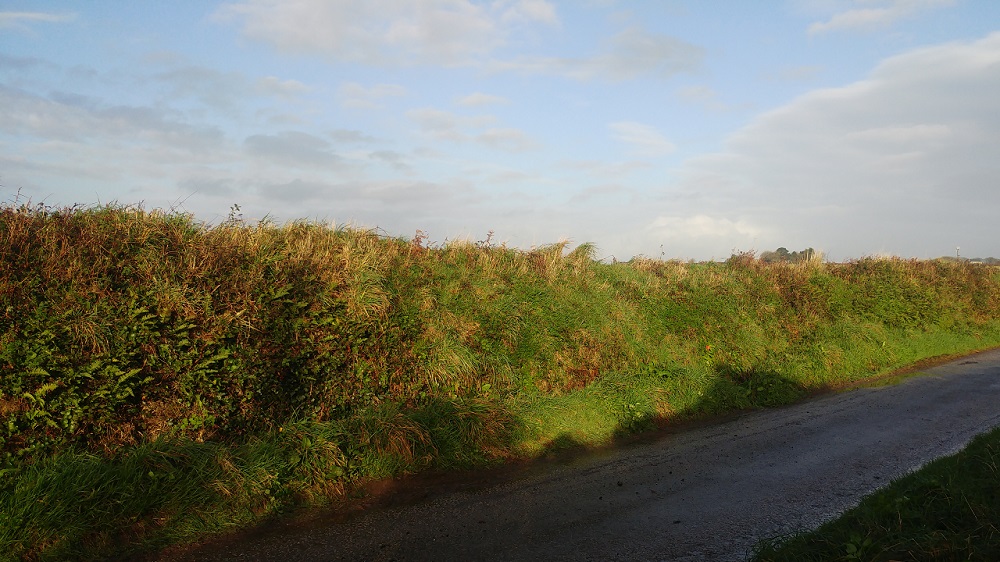 Week 2: January 2017
Clearly no observable change from last week. The weather is cold, wet and mostly overcast. We were lucky to get the hedge in sunshine as it rained most of the day.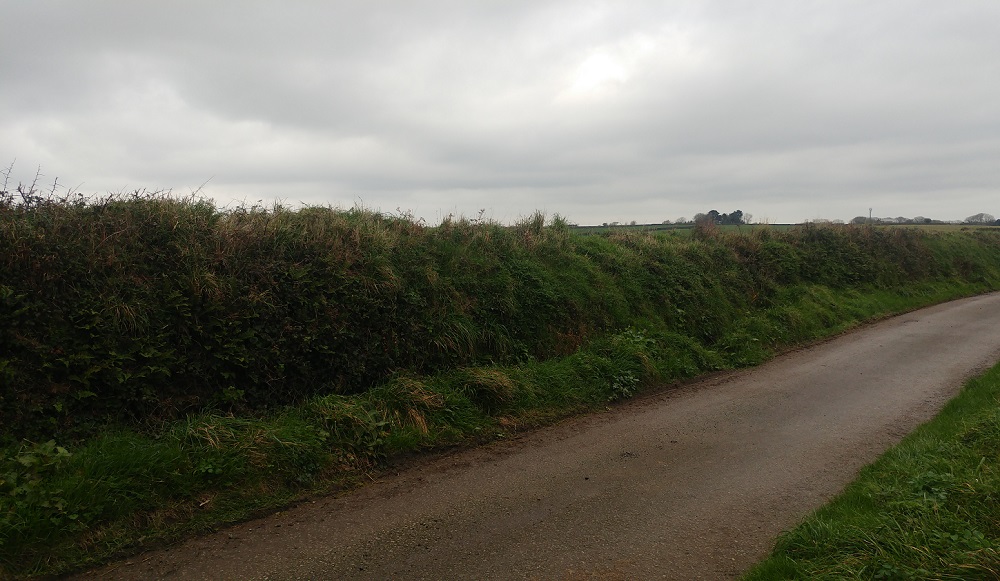 Week 3: January 2017
A very wet and cold few days. Feels like a colder-than-normal January, although we have no snow or frost yet here in Trewartha. There has been snow elsewhere in the country and a couple of hard frosts in Roseland, but our exposed situation on the hill and closeness to the sea means we are escaping the worst of the cold weather so far. There are no flowers in the hedge yet but plenty of Camellias and Primroses in flower in the area and some Daffodils starting to open, so there are definately early signs of spring, or perhaps hopeful delusions of spring.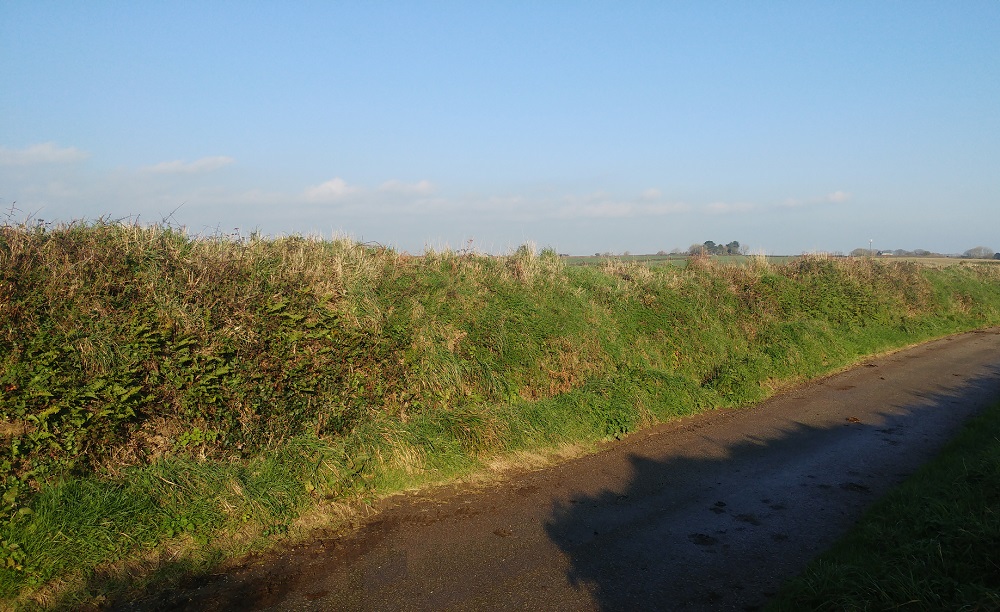 Week 4: January 2017
I admit - not much is happening. This is a test of patience - the reward comes later.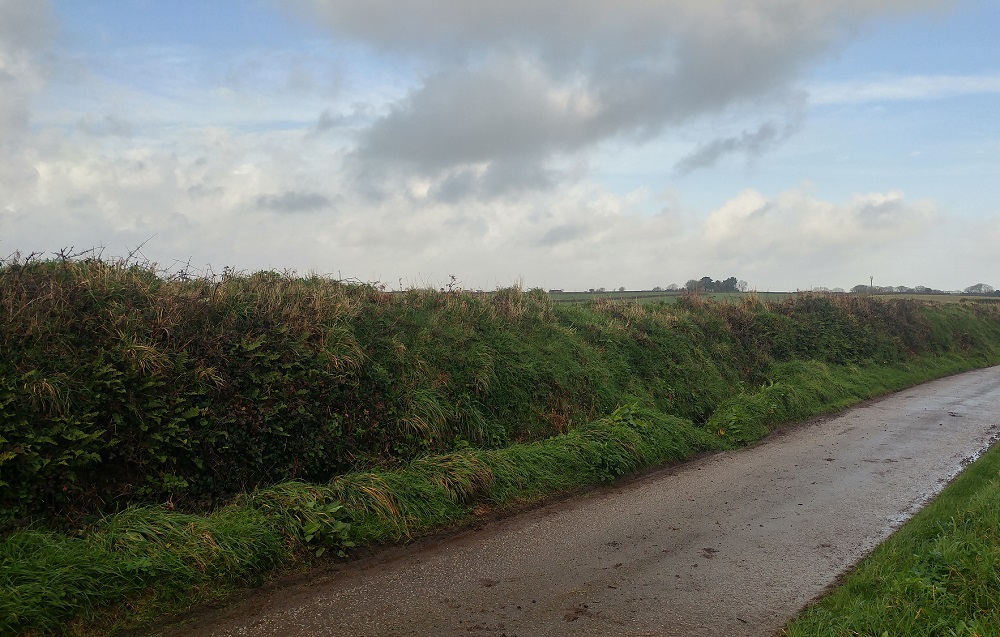 Week 5: February 2017
Still winter.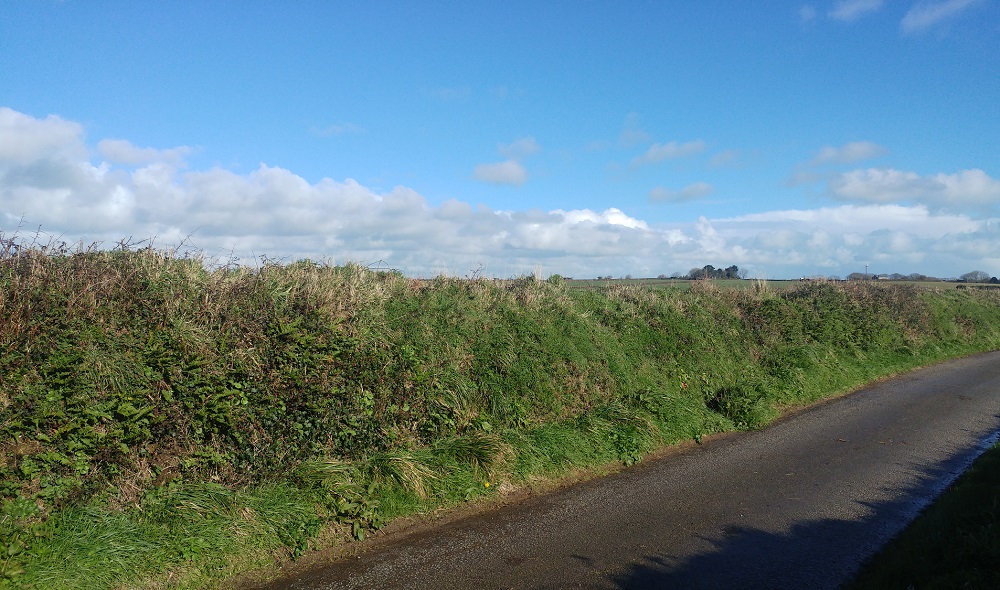 Week 6: February 2017
Warmed up a bit, but nothing happening with the hedge.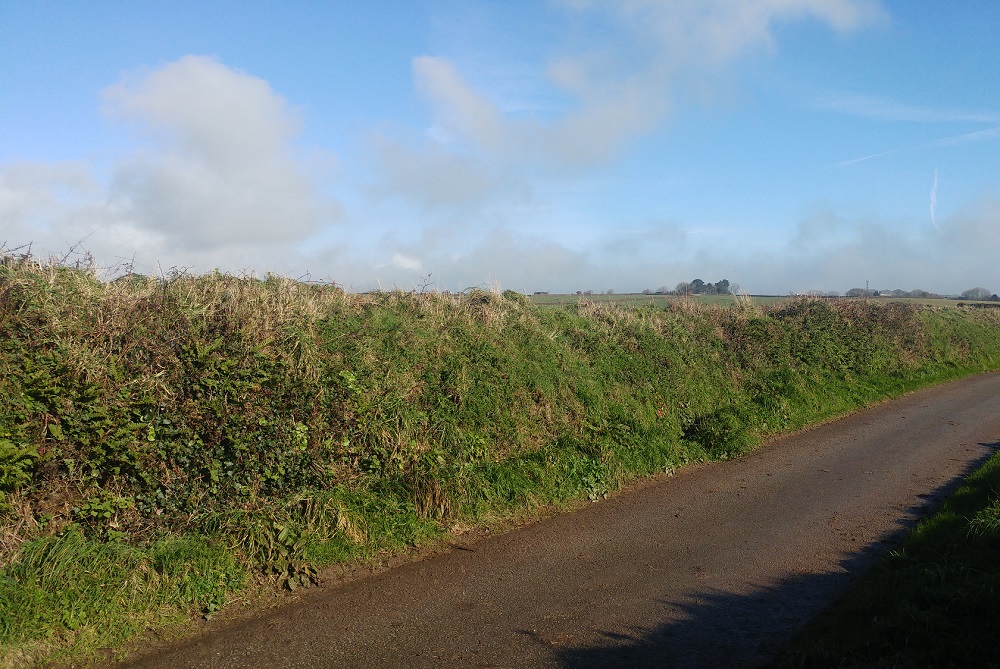 Week 7: February 2017
We could do an interesting study of the cloud formations.
Week 8: February 2017
No impact of Storm Doris despite winds of 50-60mph. The storm blew over very quickly and the temperatures are mild for the time of year at greater than 10 degrees Celcius during the day and no frost at night. There are lots of daffodils out in the area, but not in the hedge. Some Cornish Hedges have older varieties of daffodils growing at their base, probably the remnants of bulbs grown in adjacent fields and cleared to the boundaries when no longer grown commercially.