Flower bulbs of the Cape Floral Kingdom
Flower Bulbs from the Cape Floral Kingdom
We offer a range of flower bulbs from plants originating in the Cape Floral Kingdom and surrounding areas. So many of our garden plants in the UK originate from this area We source our bulbs from professional growers and nurseries in the UK and Europe, and none are collected from the wild.
Many varieties of bulbs are now highly cultivated, some hybridised, with a range of colours and forms available.
Some are winter hardy for the whole of the UK, some for warmer UK gardens (eg urban areas, the South West and west coast areas) and others are grown indoors over winter and either kept as houseplants or brought out in the summer.
Listed below are the groups of plants where flower bulbs are generally available and grown in the UK. Most plants do most of their growing and flowering in spring and summer, but a few grow in winter and flower in spring.
See Flower Bulbs for a list of currently available bulbs.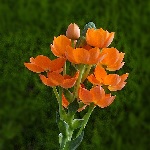 Bulbs for planting in autumn / early winter
Albuca (bulb) - plant indoors in autumn or outdoors in spring

Amaryllis belladonna (bulb)

Dierama (corm)

Freesia (corm), or plant in spring

Geissorhiza (corm) - plant indoors

Ixia (corm),

Lachenalia (bulb) - plant indoors

Ornithogalum (bulb)

Sparaxis (corm)

Tritonia (corm), indoors in colder gardens, otherwise outdoors

Veltheimia (bulb) - plant indoors in autumn or outdoors in spring

Zantedeschia aethiopica (rhizome) - plant oudoors in warmer gardens
Bulbs for planting in spring / summer
Albuca (bulb)

Agapanthus (rhizome)

Aristea (rhizome)

Babiana (corm)

Clivia (root)

Crinum (bulb)

Crocosmia (corm)

Eucomis (bulb)

Galtonia (bulb)

Gladiolus (corm)

Gloriosa (tuber)

Hesperantha / Schizostylis (rhizome)

Moraea (corm or rhizome)

Nerine (bulb)

Tulbaghia (corm)

Veltheimia (bulb)

Watsonia (corm)

Zantedeschia aethiopica (rhizome)